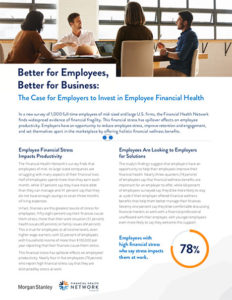 The Case for Employers to Invest in Employee Financial Health.
In a new survey of 1,000 full-time employees of mid-sized and large U.S. firms, the Financial Health Network finds widespread evidence of financial fragility. This financial stress has spillover effects on employee productivity. Employers have an opportunity to reduce employee stress, improve retention and engagement, and set themselves apart in the marketplace by offering holistic financial wellness benefits
Click to download the free report.